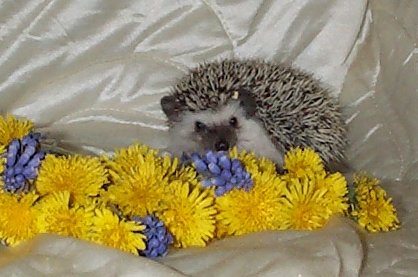 Hedgehog Show and Color Articles
Our Articles
Shows
Tips for putting on a show without losing your shirt
Pictures from the Denver '01 Hedgehog Show
Pictures from the Iola '01 Hedgehog Fest
Another place to show off hedgies
Colors
It isn't always as easy as you'd think...
Pictures to help you out
Pictures of our hedgies- they are labeled by color to help you
Other great sources of information
Lots of information about shows AND colors!
The official Hedgehog show site.
Can't travel? Try the virtual hedgehog show!
---

This page has been visited

times.

---
Antigone Means
HHValley@animail.net
Iola, KS
Return to Index page
All information on this web site is copyright of Hedgehog Valley. You may view/print the web pages for your personal use. You may also provide a link to these pages without prior approval. No one is allowed to re-post the information from Hedgehog Valley Web Site, including pictures, to any other web site, without the approval of Hedgehog Valley. Copyright 2001/2002.
Last updated 4/15/01.