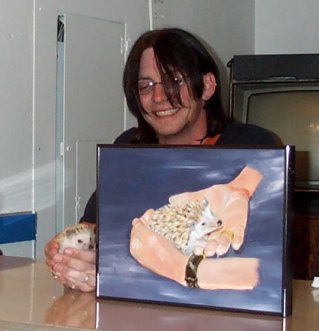 Lance Burleson & Alanis show off Alanis' afternoon Best of Show award!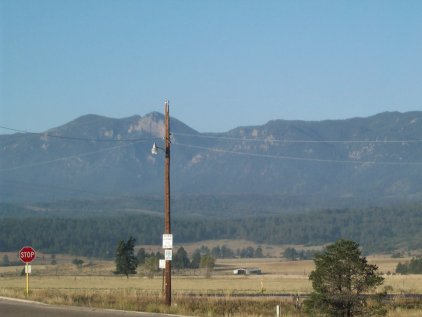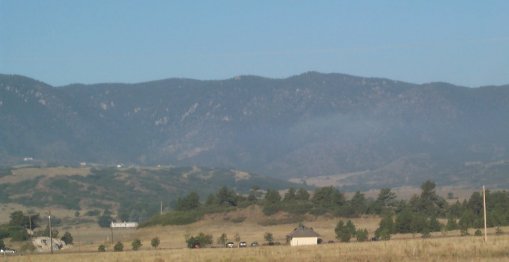 We arrived in Colorado late at night on Friday the 15th. We spent the night at Jessica Elrod's houst in CO Springs. Gotta love that Colorado scenery, here are the mountains at Colorado Springs
Saturday morning we drove up to Denver to see the Denver Zoo. Pulling into the parking lot, we pulled our red jeep in next to a blue one and a white one. Our thoughts were never far from the rescue efforts in New York and at the Pentagon, and of those who were unable to come due to this week's tragedy.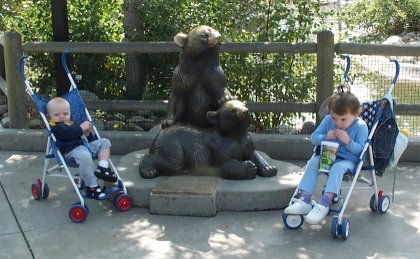 Zury and Persephone enjoy the zoo!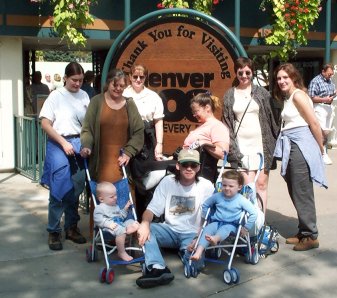 The rest of the Zoo-going group! In the front row are Zury, Lance, and Persephone Burleson. Back row, from left to right are Sarah Shore, Shari Arata, Sue Morrisson, Darcie Carter, Kari Espelien, and Jessica Elrod.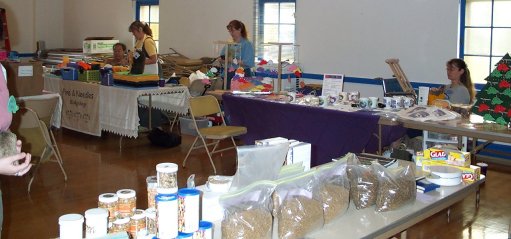 Dennis and Shari Arata, Sue Morrisson, and Darcie Carter sit at their vendor tables.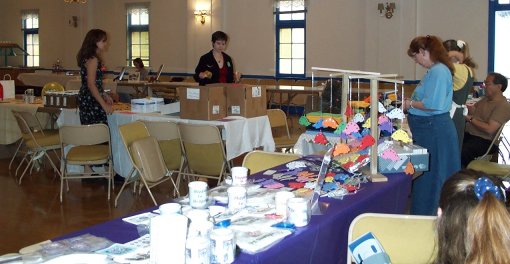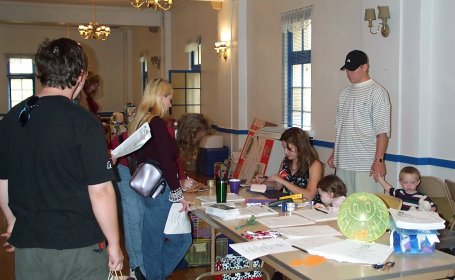 More views of the vendor tables.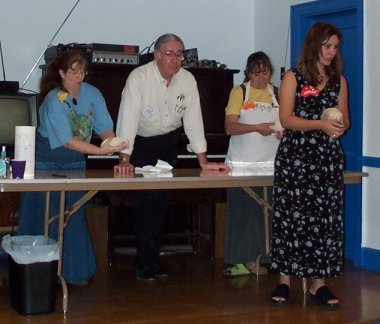 Sue Morrisson, Standing Bear, and Shari Arata show their hedgies to judge Jessica Elrod.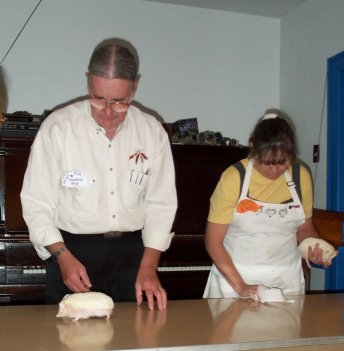 The poop was ever-present at the judging table: Standing Bear and his showee stand by while Shari Arata cleans up after hers...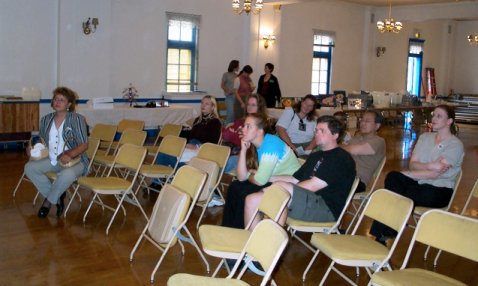 The crowd watches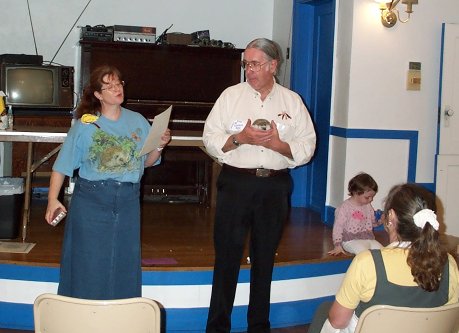 Sue Morrisson presents Z. G. Standing Bear with the Hedgehog Medal of Honor.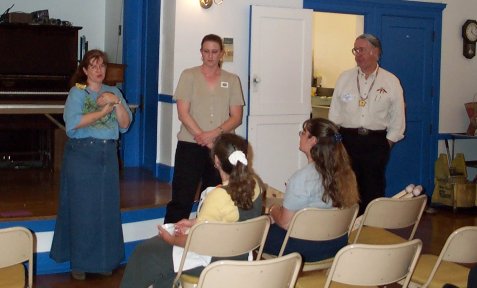 Sue also notes the incredible sewing contribution of Melissa, a Denver native who doesn't own a hedgehog but has spent countless hours sewing hedgehog items for rescues!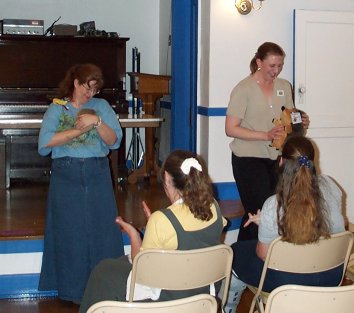 Melissa walks away with her own hedgehog.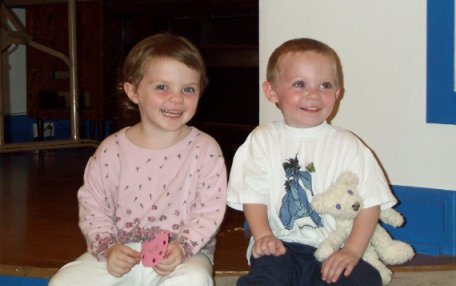 Cutest couple at the show... Persephone Burleson and Baily Elrod.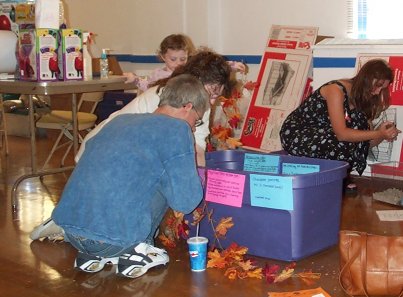 Jessica shows hedgehogs to prospective new owners.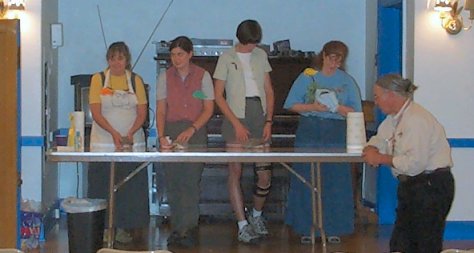 Some great looking hedgehogs! Shown by (left to right), Shari Arata, Sarah Shore, Pam (sorry, don't know last name), and Sue Morrisson. It's a tough job for judge Standing Bear!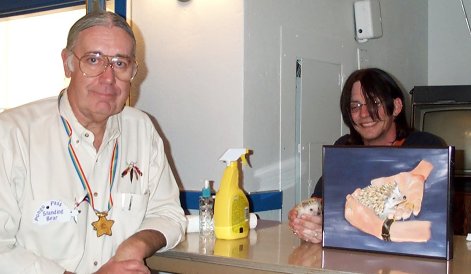 Standing Bear poses with the afternoon show winners!
The morning show winner was Sarah Shore's handsome standard male, Boris. I didn't get a picture of that handsome guy, but I can assure you he's great!
We truly missed each and every one of you who could not be at the show, and hope you will be able to join us at the next hedgie event!
---

Support freedom
Antigone Means
Hedgehog Valley
Iola, KS
Information on this page is the property of Hedgehog Valley and may not be reproduced without citing its source. It may not be reproduced for profit without written permission of the author. Copyright 2001/2002
---

This page has been visited
times since 9/17/01.

---
Most recently updated 9/17/01.