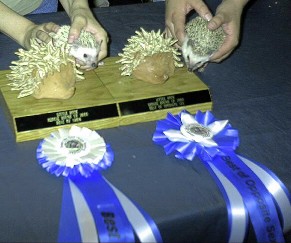 Alanna and Max, Best of Show and Best of Opposite Sex, show off their winnings at the Greater Little Rock Hedgie Round-Up, 2000. The trophies were made and donated by Penny and Allan McQuarrie.
How to put on a hedgehog show... without going broke!
-------------------------------------------------
Hedgehog Shows are gaining popularity! There are several IHC sanctioned shows that are held around the country on a regular basis, and we always want to encourage more! A listing of sanctioned shows can be found on the International Hedgehog Club website . If you want to see a hedgehog show in your area, the best way to ensure it is to put on your own. My greatest fear in putting on the Little Rock show was financial, since I'd been told it was very expensive, and many other folks have also voiced this concern. What I was quite delighted to find was that a first time show can break even! Here are my tips for putting on a show, with special tips for saving money:
Select a date and time, and secure a location.
We held our show in a dog grooming shop, which the owner kindly let us use after hours, at no charge. Try asking local businesses like pet shops or dog groomers if they have space you can use for the show. After all, it's free advertising and draws in potential customers for them!

Arrange for a licensed judge.
A list of licensed judges is available from the International Hedgehog Club. Typically the show promoter provides travel, room, food, and a $100 judge's fee. Judges live all over North America, so try to find one who lives close to you, or for whom you can get cheap airfare!

Decide on your entry fees.
$4 to $6 in advance, $6 to $8 at the door, per animal per class seems to be a pretty standard range. Despite the higher fee, most show sponsors report the highest number of entrants registering at the door.

Decide whether you want to include an olympics, costume class, or any other fun events, and whether or not you want to charge an entry fee.
Apply for sanctioning.
Send the name of judge; information about the show's date, location, time, and entry fee; show organizer's name, email and snail mail; and directions to the venue, along with the sanctioning fee ($15 for a full show, payable to the International Hedgehog Club) to IHC Show Sanctioning, c/o Sharon Massena, 5502 Jordan Ave SE, Auburn, WA 98092-8425.
Arrange for prizes for each class.
In a full show, there are 7 categories in the first round, with separate sections for adult males, adult females, juvenile males, and juvenile females. Typically, ribbons for at least 1st through 3rd are given in each of these categories. There is also the option of doing an abbreviated show, so that you will not need to invest in so many ribbons.
We chose to make our own ribbons for the Little Rock. It cost about the same as purchasing stock ribbons, but we were able to customize them so that they were more personal to the show. We also chose not to use a traditional trophy for the Best of Show and Best of Opposite Sex awards, but instead approached an artisan to donate one-of-a-kind ceramic hedgehogs, mounted on a trophy base. If you or someone you know has an artistic bent, this is a great alternative to the traditional trophy.

Arrange for seminars or speakers.
Some of the most popular seminars have involved veterinarians or people who can speak about basic aspects of hedgehog care, such as grooming and nutrition, and color identification. If you have local experts or know someone who is planning to come already, they will often donate their time to speak!

Seek sponsors for your classes.
Sponsors typically donate about $10 to cover the ribbons given for the class they are sponsoring, and in return they are noted in the program and prior to the class as the sponsor. They can sponsor a class in the honor of another person or a beloved pet. You can also sell advertising space in the program. We posted to the hedgehog mailing lists (see egroups to find them), and were quite amazed with the incredible generosity we received!

Advertise, advertise, advertise!
There are several hedgehog mailing lists on the internet where you can reach hedgehog fans to tell them about your show. You can find several at egroups. Area pet stores (and other businesses) may allow you to post flyers, and you may be able to interest local media in assisting to promote and cover the show. We received a free advertisement in the largest area paper, and got to promote the show on the morning news!

Plan the show schedule, and create and print your program in enough time to be sure to have it for the show!
Arrange for supplies
Arrange for long tables and folding chairs for the day of the show. You will also need to be sure to have plastic table covers and plenty of paper towels and/or wipes and antibacterial hand gel for the show. If the area where the show is to be held is noisy, such as at a mall or in a pet expo, arrange for a microphone so the judge can be heard!

The day of the show, be sure to set up in plenty of time before the show.
The show results will need to be returned to the IHC within 30 days after the show.

These will be listed in the newsletter, and winners will earn points toward champion titles.

Most of all, have fun!

We only expected about 15 to 20 human show attendees, and figured we'd be happy if there were at least 20 hedgies entered. We ended up with 50+ people attending, and 31 hedgies entered! We broke even, and best of all, we had a WONDERFUL time! So, what are you waiting for? We want YOU to put on a hedgie show! If you're interested but would like more assistance, please feel free to email me or Sharon Massena and we'll do our best to coach you through the process!

--------------------------------------------



Iola, KS
HHValley@animail.net
--------------------------------------
This article is may not be reproduced without permisison. Copyright 2000/2001